Free Christmas Songs & Huge Holiday Sale
Posted on 12.8.11
·

by Zack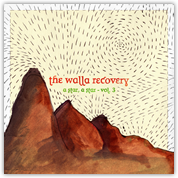 Merry Christmas!
I just finished recording 2 new Christmas songs for you. Number one is Carol of the Bells / The Holly and the Ivy, our first electronic instrumental ever. On the second one, Angels We Have Heard on High, I had some serendipitous help from founding Walla drummer Brandon (back in town for a few days), my wife Brittany, and our dog Wilson on percussion. These make up the 3rd volume of A Star, a Star, our Christmas collection. As a gift to you, all of it's 6 songs are available for free right now. Well, don't just sit there! At least take a listen and see if you like them...
Download A Star, a Star (Vols. 1-3) for free now at rcvr.me/xmas
Also, we are having a huge holiday sale. For a limited time you can get a With Trembling… CD (7 songs) for $3 and a high-quality Lion Shirt for $5, both 66%-off, shipped to your door in time for the big day! Definitely cheap enough for you to pick up one of each for yourself and a few for those special someones, too…
Buy $3 CDs and $5 shirts now at rcvr.me/xmas
Lastly, to all of you who've written kind words about our latest EP With Trembling… and/or shared it with your friends, THANK YOU! We've gotten a lot of timely encouragement, as I am currently writing on a brand new, mixed-media, full-length story-album and can't wait for you to hear it.
I hope you enjoy the new songs and have a joyful and safe holiday season. I am grateful for your involvement in this little community of wonder. I hope you'll reply to this email and let me know how you're doing. If you're on Twitter or Facebook or YouTube or Instagram or Vimeo or Flickr, please find the links below and connect with me.
Joy and peace, friend...
Zack - The Walla Recovery
"Love came down at Christmas: love all lovely, love divine. Love was born at Christmas. Stars and angels gave the sign." - Christina Rosetti
---
---